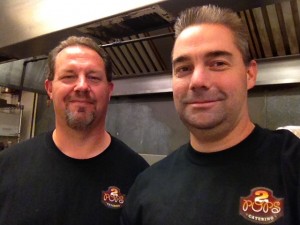 2 POPS was created by Scott Starr and Joe Johnson in a desire to serve the finest in Boneless Chicken and Barbecue. Joe and Scott are dedicated to providing 6Starr taste and service.
 Joe Johnson – Joe grew up in the food service business. He comes from the family that developed the Original Rex Restaurants known so well in the Tulsa area during the 80's and 90's for their boneless bite size chicken and fry bread.
Scott Starr – Like Joe, Scott's roots have been in the food industry. From his high school years as a breakfast chef for a prominent Tulsa area Country Club, to becoming an Entrepreneur in 1999. That was when Scott started 6Starr barbecue out of a walk up concession stand. One year later, he moved 6Starr into a 100-seat full service restaurant.  With his award winning ribs and pork, and his specialties, 2 Pops Mix and Starr's Original Cole Slaw, Scott has countless customers that consistently ask for his barbecue by name.